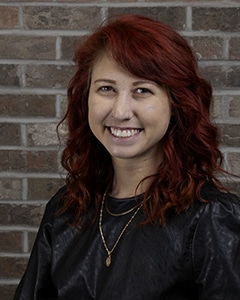 Kira Lever, Tax Supervisor
Kira grew up in a small town in Alabama called Tallassee. As a kid, she enjoyed being outside playing with her dog and spending time with her little sister. She graduated from Auburn University for both her undergraduate and graduate degrees. Her favorite subjects were Italian language courses and anything tax related!
Kira has 2 fur-babies, a 4‐year‐old Goldendoodle named Chewbacca and a 10‐month‐old tuxedo kitten named Basil. She enjoys spending her free time outdoors (she does have a professional fetch player living with her) and playing the bass guitar which she has done for many years. Kira finds art to be very therapeutic, and likes to spend time painting, drawing, or creating graphic arts on Photoshop.