Community Outreach
Posted Wed, June 3, 2020
WCG has made 2020 the year that we start giving back to our local community. Sure, we've always wanted to do more things sooner, but taxes and helping clients always seemed to get in the way. If people can make New Year resolutions, why can't businesses? So we did!
We have a wonderful team of people who are not only excellent tax and business professionals, but are also caring individuals beyond the numbers. Therefore, WCG is leveraging the heck out of our team… our beautiful office space… and our location within Colorado Springs.
Vitalant Blood Drive
WCG teamed up with Vitalant to host three blood drives in 2020. Giving blood is such a critical component to our health care system. Here are some fun facts-
Every two seconds, someone in the U.S. needs blood. Red blood cells can be used up to 42 days and platelets need to be used in five.
Your single blood donation can save and enhance the lives of up to three patients. Read their stories.
In the early 1900s, Karl Landsteiner—an Austrian biologist, physician, and immunologist—identified the three main blood groups, A, B and O. His groundbreaking work paved the way for advances in transfusion medicine; most notably that blood donor and recipient must have compatible blood to ensure a safe and successful transfusion. Landsteiner earned a Nobel Prize for his discovery.
Units of blood collected in 2020: 156
Record for filling a unit of blood: 4 minutes 36 seconds held by Tina Watson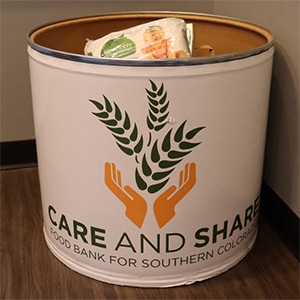 Care and Share
Care and Share is a local food bank located in Colorado Springs and Pueblo. According to their website, "Care and Share exists to ensure that the one in eight Southern Coloradans at risk of hunger have access to enough healthy and nutritious food to thrive. We know that children without adequate access to food cannot develop successfully, families cannot plan for their future, and seniors find it more difficult to remain independent."
Therefore, WCG has become a Care and Share drop off location at 2393 Flying Horse Club Drive in Colorado Springs on the southwest corner of Flying Horse Club Drive and Highway 83.
Full Bins Delivered by WCG so far: 5
Pop Tabs for Charity
With a nearly endless supply of soda (thanks Jason), WCG has enough pop tabs alone to help give back to the community!
We have begun collecting our pop tabs as a firm and will donate these to the Ronald McDonald House Charities of Southern Colorado every time we reach a pound. According to their website, "These small metal pieces are a source of charitable revenue for us. The amount of money we receive from the tabs comes from the weight of the aluminum collected." They then use the money raised for operations and supplies.
We have just started collecting, but we will be keeping track of our progress right here and on our socials.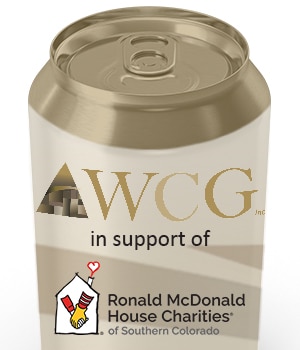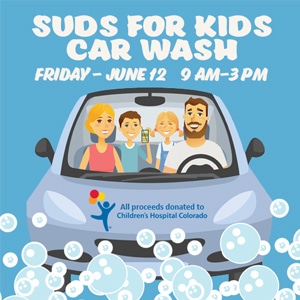 Suds for Kids Car Wash
WCG has connected with Children's Hospital of Colorado to wash cars, collect donations, match those donations and then donate to help fund medical research and functions. According to their website, "When it was founded in 1908 in Denver, Children's Colorado set out to be a leader in providing the best healthcare outcomes for children. That calling has consistently made us one of the top children's hospitals in the nation and a place parents across the Rocky Mountain region have come to trust. At Children's Hospital Colorado, we see more, treat more and heal more kids than any hospital in our seven-state region. We're experienced and forward-thinking when it comes to the latest methods for diagnosis and treatment. This translates into less invasive treatment, less time, and less stress on you and your children."
Our next event will be Friday, June 12 from 9:00AM to 3:00PM. Bring your dirty car to our office located at 2393 Flying Horse Club Drive, and the wonderful WCG staff will give it a good cleaning. Enjoy some lemonade as well!
United States Flag
WCG proudly flies the United States flag at our Colorado Springs office. We also take flying our flag at half-mast seriously, and only do so when Ordered by the President or for certain events. It certainly gives our employees a reason to pause and reflect. Did you know how few days there are where a flag is flown half-mast? According to Gettyburg Flag Works,
Peace Officers Memorial Day, May 15th, unless that day is also Armed Forces Day. (sunrise to sunset)
Memorial Day, last Monday in May (sunrise to noon)
(sunrise to sunset)
National Firefighters Memorial Day, October (typically a Sunday during Fire Prevention Week and along with a memorial service held in Emmitsburg, MD)
Pearl Harbor Remembrance Day, December 7th (sunrise to sunset)
WCG is a full service consultation and tax preparation firm, and we look forward to working more with our community to make peoples' lives a bit easier.