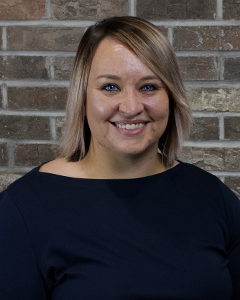 Shannon Kuharik, CPA, Tax Manager
Shannon was born and raised in the Midwest. She has moved quite a bit since college, but found her way back home to Cleveland.  She has always been involved in music and sports. She has played drums for 20 years and is currently learning how to play the guitar.  For sports, she played softball, volleyball and roller derby, with the injuries to prove it.
She went back to college at 26 to become an accountant. Accounting is Shannon's third career after gaining experience in Human Resources and Pharmaceutical Sales. She was fortunate to begin her accounting career working at a small firm, where she did a little bit of everything and is familiar with tax, bookkeeping, payroll, audit, etc.  She has worked with everyone from solo entrepreneurs to a Fortune 500 company.
Shannon has been married to her husband, Brett, for three years and has an almost two-year-old toddler, Eli. She is a music fanatic. They also collect vinyl records and her son is already learning to play the drums.  Outside of music, she also enjoys skiing, cooking, drinking craft beer and visiting local wineries.  Travel is also a huge passion, where she has visited 15 countries, with a goal of visiting every state in the US.  She has been to 40 already.