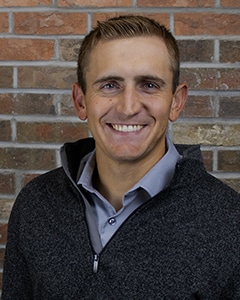 Corey Haberkorn, Tax Support
Corey grew up just outside Colorado Springs in Falcon, Colorado. He played football, basketball and cross-country. His family went camping a lot and visited many national parks.
He received his associate degree in business, from Pikes Peak Community College. He is about to receive his bachelor's degree in business administration, with an emphasis in Accounting in December 2023. His accounting classes caught his interest in college, then he started learning about taxes and wanted to learn the ins and outs of them and how they work.
In his free time, he enjoys playing baseball, basketball, and slow pitch softball. Corey has his skydiving license and likes to jump out of airplanes for fun, with 58 jumps currently. You can also find him outside, camping, hiking, fishing, and going on road trips. If he is not outside, he is enjoying TV, movies, playing videogames, board games or playing guitar, drums and piano.