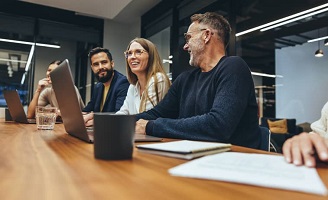 States With Highest Income (USA Today Reprint)
Posted October 4, 2019
This is reprinted from a USAToday article (dated October 2, 2019). The most recent data is from 2018.
Median household income in the United States hit an all time high in 2018, according to data from the U.S. Census Bureau's American Community Survey. The recently-released data shows that the typical American household now has an income of $61,937 a year, up slightly from $61,423 in 2017. Over the same period, the poverty rate nationwide also improved, from 13.4% to 13.1%.
The slight uptick in median household income at the national level does not paint a complete picture, however. Only 14 states reported a statistically significant increase in median household income – and in one state, Maine, the median household income actually declined by a statistically significant amount. For context, there was a statistically significant increase in median household income in nearly half of all states between 2016 and 2017.
24/7 Wall St. reviewed recently released 2018 ACS median household income data identify America's richest and poorest states. The share of adults 25 and over with a bachelor's degree and the share of the population living below the poverty line also came from the 2018 ACS. We also reviewed annual average unemployment data from the Bureau of Labor Statistics for 2018 and 2017.
1. Maryland
• Median household income: $83,242 (2018); $82,747 (2017)
• Bachelor's degree attainment: 40.8% (2018); 39.7% (2017)
• Poverty rate: 9.0% (2018); 9.3% (2017)
• Unemployment: 3.9% (2018); 4.3% (2017)
2. New Jersey
• Median household income: $81,740 (2018); $81,763 (2017)
• Bachelor's degree attainment: 40.8% (2018); 39.7% (2017)
• Poverty rate: 9.5% (2018); 10.0% (2017)
• Unemployment: 4.1% (2018); 4.6% (2017)
3. Hawaii
• Median household income: $80,212 (2018); $79,648 (2017)
• Bachelor's degree attainment: 33.5% (2018); 32.9% (2017)
• Poverty rate: 8.8% (2018); 9.5% (2017)
• Unemployment: 2.4% (2018); 2.4% (2017)
4. Massachusetts
• Median household income: $79,835 (2018); $79,371 (2017)
• Bachelor's degree attainment: 44.5% (2018); 43.4% (2017)
• Poverty rate: 10.0% (2018); 10.5% (2017)
• Unemployment: 3.3% (2018); 3.8% (2017)
5. Connecticut
• Median household income: $76,348 (2018); $75,947 (2017)
• Bachelor's degree attainment: 39.6% (2018); 38.7% (2017)
• Poverty rate: 10.4% (2018); 9.6% (2017)
• Unemployment: 4.1% (2018); 4.7% (2017)
6. California
• Median household income: $75,277 (2018); $73,513 (2017)
• Bachelor's degree attainment: 34.2% (2018); 33.6% (2017)
• Poverty rate: 12.8% (2018); 13.3% (2017)
• Unemployment: 4.2% (2018); 4.8% (2017)
7. New Hampshire
• Median household income: $74,991 (2018); $75,051 (2017)
• Bachelor's degree attainment: 36.8% (2018); 36.9% (2017)
• Poverty rate: 7.6% (2018); 7.7% (2017)
• Unemployment: 2.5% (2018); 2.7% (2017)
8. Alaska
• Median household income: $74,346 (2018); $75,092 (2017)
• Bachelor's degree attainment: 30.2% (2018); 28.8% (2017)
• Poverty rate: 10.9% (2018); 11.1% (2017)
• Unemployment: 6.6% (2018); 7.0% (2017)
9. Washington
• Median household income: $74,073 (2018); $72,591 (2017)
• Bachelor's degree attainment: 36.7% (2018); 35.5% (2017)
• Poverty rate: 10.3% (2018); 11.0% (2017)
• Unemployment: 4.5% (2018); 4.7% (2017)
10. Virginia
• Median household income: $72,577 (2018); $73,155 (2017)
• Bachelor's degree attainment: 39.3% (2018); 38.7% (2017)
• Poverty rate: 10.7% (2018); 10.6% (2017)
• Unemployment: 3.0% (2018); 3.7% (2017)
11. Colorado
• Median household income: $71,953 (2018); $70,676 (2017)
• Bachelor's degree attainment: 41.7% (2018); 41.2% (2017)
• Poverty rate: 9.6% (2018); 10.3% (2017)
• Unemployment: 3.3% (2018); 2.7% (2017)
12. Utah
• Median household income: $71,414 (2018); $69,917 (2017)
• Bachelor's degree attainment: 34.9% (2018); 34.6% (2017)
• Poverty rate: 9.0% (2018); 9.7% (2017)
• Unemployment: 3.1% (2018); 3.3% (2017)
13. Minnesota
• Median household income: $70,315 (2018); $70,049 (2017)
• Bachelor's degree attainment: 36.7% (2018); 36.1% (2017)
• Poverty rate: 9.6% (2018); 9.5% (2017)
• Unemployment: 2.9% (2018); 3.4% (2017)
14. New York
• Median household income: $67,844 (2018); $66,201 (2017)
• Bachelor's degree attainment: 37.2% (2018); 36.0% (2017)
• Poverty rate: 13.6% (2018); 14.1% (2017)
• Unemployment: 4.1% (2018); 4.7% (2017)
15. Illinois
• Median household income: $65,030 (2018); $64,493 (2017)
• Bachelor's degree attainment: 35.1% (2018); 34.4% (2017)
• Poverty rate: 12.1% (2018); 12.6% (2017)
• Unemployment: 4.3% (2018); 4.9% (2017)
16. Delaware
• Median household income: $64,805 (2018); N/A (2017)
• Bachelor's degree attainment: 31.3% (2018); 31.5% (2017)
• Poverty rate: 12.5% (2018); N/A (2017)
• Unemployment: 3.8% (2018); 4.5% (2017)
17. Rhode Island
• Median household income: $64,340 (2018); $65,366 (2017)
• Bachelor's degree attainment: 34.4% (2018); 33.5% (2017)
• Poverty rate: 12.9% (2018); 11.6% (2017)
• Unemployment: 4.1% (2018); 4.4% (2017)
18. North Dakota
• Median household income: $63,837 (2018); $63,245 (2017)
• Bachelor's degree attainment: 29.7% (2018); 30.7% (2017)
• Poverty rate: 10.7% (2018); 10.3% (2017)
• Unemployment: 2.6% (2018); 2.7% (2017)
19. Oregon
• Median household income: $63,426 (2018); $61,369 (2017)
• Bachelor's degree attainment: 34.0% (2018); 33.7% (2017)
• Poverty rate: 12.6% (2018); 13.2% (2017)
• Unemployment: 4.2% (2018); 4.1% (2017)
20. Wyoming
• Median household income: $61,584 (2018); $61,523 (2017)
• Bachelor's degree attainment: 26.9% (2018); 27.6% (2017)
• Poverty rate: 11.1% (2018); 11.3% (2017)
• Unemployment: 4.1% (2018); 4.2% (2017)
21. Pennsylvania
• Median household income: $60,905 (2018); $60,460 (2017)
• Bachelor's degree attainment: 31.8% (2018); 31.4% (2017)
• Poverty rate: 12.2% (2018); 12.5% (2017)
• Unemployment: 4.3% (2018); 4.9% (2017)
22. Vermont
• Median household income: $60,782 (2018); $59,028 (2017)
• Bachelor's degree attainment: 38.7% (2018); 38.3% (2017)
• Poverty rate: 11.0% (2018); 11.3% (2017)
• Unemployment: 2.7% (2018); 3.0% (2017)
23. Wisconsin
• Median household income: $60,773 (2018); $60,552 (2017)
• Bachelor's degree attainment: 30.0% (2018); 30.4% (2017)
• Poverty rate: 11.0% (2018); 11.3% (2017)
• Unemployment: 3.0% (2018); 3.3% (2017)
24. Texas
• Median household income: $60,629 (2018); $60,416 (2017)
• Bachelor's degree attainment: 30.3% (2018); 29.6% (2017)
• Poverty rate: 14.9% (2018); 14.7% (2017)
• Unemployment: 3.9% (2018); 4.3% (2017)
25. Iowa
• Median household income: $59,955 (2018); $60,002 (2017)
• Bachelor's degree attainment: 29.0% (2018); 28.9% (2017)
• Poverty rate: 11.2% (2018); 10.7% (2017)
• Unemployment: 2.5% (2018); 3.1% (2017)
26. Nebraska
• Median household income: $59,566 (2018); $60,847 (2017)
• Bachelor's degree attainment: 32.4% (2018); 31.7% (2017)
• Poverty rate: 11.0% (2018); 10.8% (2017)
• Unemployment: 2.8% (2018); 2.9% (2017)
27. Arizona
• Median household income: $59,246 (2018); $57,884 (2017)
• Bachelor's degree attainment: 29.7% (2018); 29.4% (2017)
• Poverty rate: 14.0% (2018); 14.9% (2017)
• Unemployment: 4.8% (2018); 4.9% (2017)
28. Georgia
• Median household income: $58,756 (2018); $57,322 (2017)
• Bachelor's degree attainment: 31.9% (2018); 30.9% (2017)
• Poverty rate: 14.3% (2018); 14.9% (2017)
• Unemployment: 3.9% (2018); 4.7% (2017)
29. Nevada
• Median household income: $58,646 (2018); $59,340 (2017)
• Bachelor's degree attainment: 24.9% (2018); 24.9% (2017)
• Poverty rate: 12.9% (2018); 13.0% (2017)
• Unemployment: 4.6% (2018); 5.1% (2017)
30. Kansas
• Median household income: $58,218 (2018); $57,652 (2017)
• Bachelor's degree attainment: 33.8% (2018); 33.7% (2017)
• Poverty rate: 12.0% (2018); 11.9% (2017)
• Unemployment: 3.4% (2018); 3.7% (2017)
31. Michigan
• Median household income: $56,697 (2018); $56,081 (2017)
• Bachelor's degree attainment: 29.6% (2018); 29.1% (2017)
• Poverty rate: 14.1% (2018); 14.2% (2017)
• Unemployment: 4.1% (2018); 4.6% (2017)
32. South Dakota
• Median household income: $56,274 (2018); $57,613 (2017)
• Bachelor's degree attainment: 29.2% (2018); 28.1% (2017)
• Poverty rate: 13.1% (2018); 13.0% (2017)
• Unemployment: 3.0% (2018); 3.2% (2017)
33. Ohio
• Median household income: $56,111 (2018); $55,236 (2017)
• Bachelor's degree attainment: 29.0% (2018); 28.0% (2017)
• Poverty rate: 13.9% (2018); 14.0% (2017)
• Unemployment: 4.6% (2018); 5.0% (2017)
34. Indiana
• Median household income: $55,746 (2018); $55,368 (2017)
• Bachelor's degree attainment: 27.1% (2018); 26.8% (2017)
• Poverty rate: 13.1% (2018); 13.5% (2017)
• Unemployment: 3.4% (2018); 3.6% (2017)
35. Maine
• Median household income: $55,602 (2018); $57,486 (2017)
• Bachelor's degree attainment: 31.5% (2018); 32.1% (2017)
• Poverty rate: 11.6% (2018); 11.1% (2017)
• Unemployment: 3.4% (2018); 3.4% (2017)
36. Idaho
• Median household income: $55,583 (2018); $53,392 (2017)
• Bachelor's degree attainment: 27.7% (2018); 26.8% (2017)
• Poverty rate: 11.8% (2018); 12.8% (2017)
• Unemployment: 2.8% (2018); 3.2% (2017)
37. Florida
• Median household income: $55,462 (2018); $53,945 (2017)
• Bachelor's degree attainment: 30.4% (2018); 29.7% (2017)
• Poverty rate: 13.6% (2018); 14.0% (2017)
• Unemployment: 3.6% (2018); 4.2% (2017)
38. Montana
• Median household income: $55,328 (2018); $54,643 (2017)
• Bachelor's degree attainment: 31.7% (2018); 32.3% (2017)
• Poverty rate: 13.0% (2018); 12.5% (2017)
• Unemployment: 3.7% (2018); 3.9% (2017)
39. Missouri
• Median household income: $54,478 (2018); $54,910 (2017)
• Bachelor's degree attainment: 29.5% (2018); 29.1% (2017)
• Poverty rate: 13.2% (2018); 13.4% (2017)
• Unemployment: 3.2% (2018); 3.8% (2017)
40. North Carolina
• Median household income: $53,855 (2018); $53,951 (2017)
• Bachelor's degree attainment: 31.9% (2018); 31.3% (2017)
• Poverty rate: 14.0% (2018); 14.7% (2017)
• Unemployment: 3.9% (2018); 4.5% (2017)
41. Tennessee
• Median household income: $52,375 (2018); $52,201 (2017)
• Bachelor's degree attainment: 27.5% (2018); 27.3% (2017)
• Poverty rate: 15.3% (2018); 15.0% (2017)
• Unemployment: 3.5% (2018); 3.8% (2017)
42. South Carolina
• Median household income: $52,306 (2018); $51,396 (2017)
• Bachelor's degree attainment: 28.3% (2018); 28.0% (2017)
• Poverty rate: 15.3% (2018); 15.4% (2017)
• Unemployment: 3.4% (2018); 4.3% (2017)
43. Oklahoma
• Median household income: $51,924 (2018); $50,839 (2017)
• Bachelor's degree attainment: 25.6% (2018); 25.5% (2017)
• Poverty rate: 15.6% (2018); 15.8% (2017)
• Unemployment: 3.4% (2018); 4.2% (2017)
44. Kentucky
• Median household income: $50,247 (2018); $49,437 (2017)
• Bachelor's degree attainment: 24.8% (2018); 24.0% (2017)
• Poverty rate: 16.9% (2018); 17.2% (2017)
• Unemployment: 4.3% (2018); 4.9% (2017)
45. Alabama
• Median household income: $49,861 (2018); $49,249 (2017)
• Bachelor's degree attainment: 25.5% (2018); 25.5% (2017)
• Poverty rate: 16.8% (2018); 16.9% (2017)
• Unemployment: 3.9% (2018); 4.4% (2017)
46. Louisiana
• Median household income: $47,905 (2018); $47,050 (2017)
• Bachelor's degree attainment: 24.3% (2018); 23.8% (2017)
• Poverty rate: 18.6% (2018); 19.7% (2017)
• Unemployment: 4.9% (2018); 5.1% (2017)
47. New Mexico
• Median household income: $47,169 (2018); $47,646 (2017)
• Bachelor's degree attainment: 27.7% (2018); 27.1% (2017)
• Poverty rate: 19.5% (2018); 19.7% (2017)
• Unemployment: 4.9% (2018); 5.9% (2017)
48. Arkansas
• Median household income: $47,062 (2018); $46,859 (2017)
• Bachelor's degree attainment: 23.3% (2018); 23.4% (2017)
• Poverty rate: 17.2% (2018); 16.4% (2017)
• Unemployment: 3.7% (2018); 3.7% (2017)
49. Mississippi
• Median household income: $44,717 (2018); $44,604 (2017)
• Bachelor's degree attainment: 23.2% (2018); 21.9% (2017)
• Poverty rate: 19.7% (2018); 19.8% (2017)
• Unemployment: 4.8% (2018); 5.1% (2017)
50. West Virginia
• Median household income: $44,097 (2018); $44,587 (2017)
• Bachelor's degree attainment: 21.3% (2018); 20.2% (2017)
• Poverty rate: 17.8% (2018); 19.1% (2017)
• Unemployment: 5.3% (2018); 5.2% (2017)