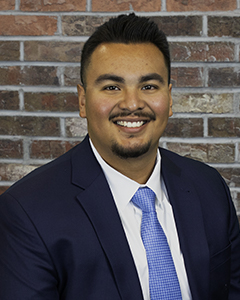 Jose Castro-Antunez, Tax Accountant
Jose is a Colorado native.  He grew up in Denver.  He spent his childhood outdoors playing with friends, playing sports, and just exploring!  He attended Metropolitan State University of Denver, getting his Bachelor's in Accounting in 2018, followed by his Master's in Accounting with an emphasis on tax in 2020.  He also played baseball at MSU Denver!
Jose knew that he always wanted to do something with math because it was his best subject, but also wanted to do something with business, so when you add those together you get accounting! It fit the mold and stuck from day one.  He has a lot of experience working with small businesses and S Corps.  He also has plenty of tax experience helping individuals, as well as S Corps, Partnerships, Corporations and occasionally Trusts and Estates.
When Jose is not busy in the office, you can probably find him doing something with sports.  If it's baseball, basketball, or football, he is involved.  That includes cheering on the Rockies, Nuggets and Broncos and coaching youth baseball.  He also has a dog named Wilson that is a Huskey/Labrador mix.  He is super energetic and likes to keep Jose entertained and busy.  If Jose isn't with his dog or doing something sports related, he loves going to gym and trying new restaurants around town while exploring all the city has to offer!