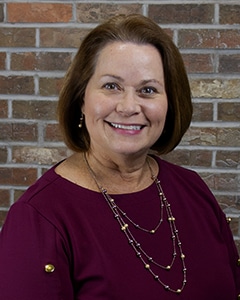 JoAnn Sandvig, Accounting Services Supervisor
JoAnn grew up on a farm in Iowa. She would build forts in trees and go swimming at her cousin's house. She is from a large family, so there was always somebody to play with. As a kid, she also started playing piano in second grade and played at her church in fourth grade. She played piano for hundreds or weddings and funerals until she moved from Iowa in 2010.
She graduated from Buena Vista University in Storm Lake, Iowa, with a degree in Business Management/Entrepreneurship and then later returned to the same university to get her accounting degree. Accounting seemed to come easy to her.
JoAnn married her high school sweetheart, who she started dating her sophomore year. They have two grown sons, two daughters-in-law and two grandchildren. When she is not at work, she enjoys hiking (or maybe long walks). College football is their favorite. Her team is the University of Iowa Hawkeyes. She is also a big fam of the Kansas City Chiefs. There is football on their TV almost every day during football season.