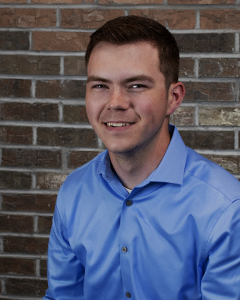 Ethan Summers, CPA, Tax Accountant
Ethan has spent nearly his entire life in Colorado. His dad was in the Army and they moved to Pueblo when he was one year old. He has lived there ever since. As a kid, he enjoyed hiking, fishing, camping and pretty much any outdoor activities. He went to college and graduated in May of 2020 from Colorado State University-Pueblo. Go Thunderwolves! His favorite subjects were business and tax law and accounting.
Ethan chose to pursue accounting as a profession because pretty much every person and business needs an accountant. He enjoys taxes and working with clients.
When he is not working, he is spending time with his wife Hannah, and their two children, Oliver and Carter, a cat named Gary and a German Shepard named Rocco. They enjoy hiking and camping and going to places like museums and zoos. They have family throughout the United States and love to travel to see them as often as they can.