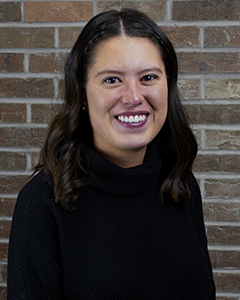 Alejandra Miranda, Client Support
Alejandra has been in Colorado her whole life, growing up in the Castle Rock area. As a kid, she loved to be outdoors with her 3 younger brothers, riding bikes, building forts with tree branches, and playing soccer. From a young age she fell in love with reading books and enjoyed getting lost in the storylines and characters' world. When she was around 13, she started collecting books and it has grown into an impressive personal library!
Alejandra majored in English and graduated in 2018, from Colorado State University. Her favorite subjects were English and history! She chose accounting as a profession more for the client aspect of it. She likes interacting and establishing relationships with clients. She likes a challenge and likes learning new things.
In her free time, Alejandra lives at home with her boyfriend, who is a history teacher in Canon City. She also has a spunky little dog named Toby. She also likes reading, painting, DIY and interior design. In the summer you can find her paddle boarding and taking road trips. Although she has lived in Colorado her whole life, there is a lot in the state that she hasn't visited or seen.