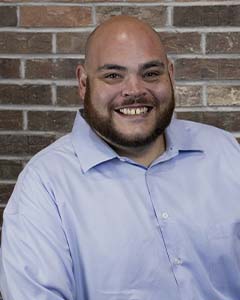 Tim Richardson, Accounting Services
Tim is a Colorado Springs native, but lived in Denver the last 8 years. He recently moved back to Colorado Springs. Growing up, he enjoyed being outside, riding his bike or fishing. He also liked to read and build Lego sets or do puzzles.
He says he didn't choose accounting, it choose him. He fell in love with it as a Sophomore in high school and knew from the beginning that he was good at it. He went to Colorado Technical University-Colorado Springs and graduated in 2011 with a Masters degree in Accounting. Besides his favorite accounting course, he also liked his history classes and still enjoys reading about history on a regular basis. He is currently studying for his CPA exam.
In Tim's free time, you can find him with his best friend, Brewfus, his 13-year-old Beagle/Jack Russel mix. He is also an avid Colorado Avalanche fan, Ohio State fan and Las Vegas Raider fan. You can also find him on the South Platte River fly fishing, camping in the summer or out on the gun range.  Anything outdoors, he is there!