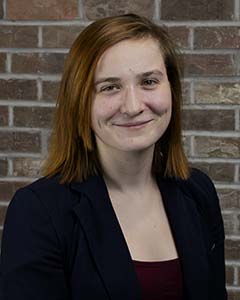 Samantha Torkildsen, Tax Accountant
Samantha grew up living in Alabama, Florida, Texas, North Carolina and Alaska.  Her favorite place to live was Kodiak Island in Alaska.  She spent most of her days after school hiking with her dog, going on runs, or paddle boarding on the ocean (in a full wetsuit of course). She loved being outside with the beautiful mountain views and ocean scenery with her dog.
She went to college at the University of Alaska Fairbanks, finishing her last year online when she moved to Colorado.  She enjoyed her English/writing and accounting.  After deciding to switch her major from Mathematics to Secondary Education, she was in search for what she actually wanted to to. She took an Intro to Accounting class and loved her teacher. She took three more classes with that teacher, who really sold her on the subject and profession.
Samantha's free time is spent going hiking, running, camping and paddle boarding. She loves with her two Alaskan Huskies. She tries to bring them along when possible.  If she isn't in the outdoors, she also enjoys playing video games.