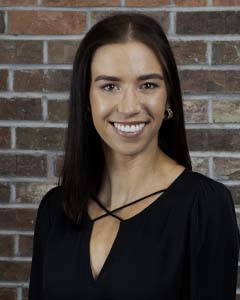 Rylee Ries, Tax Accountant
Rylee grew up in the Reno/Lake Tahoe area. She moved to Colorado in middle school. As a kid, she enjoyed reading, climbing trees and playing volleyball at the beach.  She did a heptathlon in college and would prefer to never run an 800m race again. In May, 2019, she graduated from the University of Colorado at Colorado Springs with an emphasis in accounting and finance.
She choose accounting as a profession because she likes translating data into a pretty presentation, such as a tax return. Rylee likes to solve problems with numbers, getting the problem right, balancing the balance sheet or getting the tax return to tie-out with the workpapers. She likes the constantly evolving nature of the profession, so there is always more to learn.  She loves 1065s and 1040s!
When she isn't working, you can probably find her with her energetic puppy names Joey.  She also likes to read, hike, do yoga, cook and bake, travel to new places and snowboard in the winter. She also likes spending time with her little sister who mobed back to Colorado.