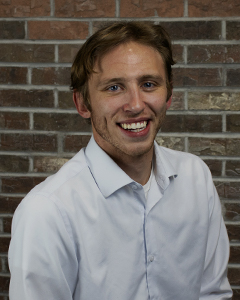 Reaves Arnold, Tax Accountant
Reaves grew up about 30 minutes from our Nation's capital in Chantilly, Virginia.  As a kid he wrestled, played bass guitar and was even part of a punk rock band in middle school.  He really enjoyed being outside and hanging out with his friends. His older siblings tricked him into memorizing the alphabet backwards when he was seven and he can say it fast now.
He took an accounting class in high school and it just clicked.  Reaves graduated from the University of Colorado at Colorado Springs with a Bachelor's in Accounting.  He really enjoyed accounting classes, obviously, but also enjoyed the business management classes he took.  He has always enjoyed working with numbers and for tax specifically, he enjoys problem solving and the continuous learning aspects.
In his spare time, Reaves is hanging out with his two roommates from college and his Chocolate Lab named Willow.  She is the queen of the house.  He enjoys playing outdoor games like corn hole and frisbee and just being outside when it's warm.  You can usually catch him watching football, but he is sure to also follow his home teams Washington Nationals and Washington Capitals (baseball and hockey).  Reaves also likes to cook…for himself and others, but even his dog gets at least one human meal a week.  Anything for a queen, right?