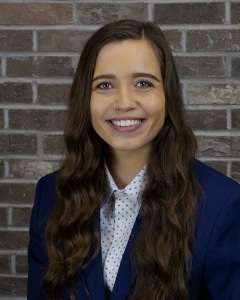 Megan Prevost, Tax Accountant
Megan grew up in Fort Morgan, Colorado. As a kid she played golf, volleyball and ran track. She graduated from the University of Colorado at Colorado Springs in 2020 with a Bachelors of Science in Accounting. Her favorite classes were non-for-profit accounting and statistics.
She got into accounting because her mom owns her own CPA firm in her hometown and she made Megan take a beginners accounting course in community college and she loved it. Her strongest foundation is in 990, 1120S and 1040 tax returns.
Megan is recently engaged. Her fiancé works in veterinarian medicine and they have lots of pets. In her free time, Megan's biggest hobby is weight lifting. It takes up most of her free-time. She used to train to compete, but due to COVID at the time, my competition was canceled. Eventually, she would love to do a body building show. She also loves camping, rafting, hiking, and going to concerts.