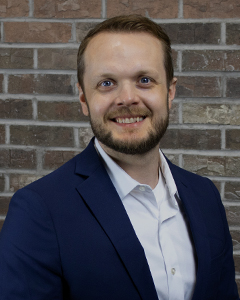 Matt Church, EA, Tax Supervisor
Matt grew up in a small town called Manchester, just outside of Ann Arbor, Michigan. He played sports, including football in high school. He was also part of a few garage bands too.
Matt graduated from Ferris State University in Grand Rapids, MI, in 2010. He studied business management and enjoyed his economics and finance classes. He actually fell into tax and public accounting after turning what was supposed to be a seasonal, temporary job into an 8 year endeavor with a firm in Kentucky. He found he really enjoyed the process of preparing tax returns and learning about tax rules and regulations. He obtained his EA in 2012.
Matt and his girlfriend recently moved to Denver from Chattanooga, TN.  They also brought along their 3 cats and more than 100 plants.  When he is not tending to his plants, you can find them both skiing, snowboarding, camping and backpacking.