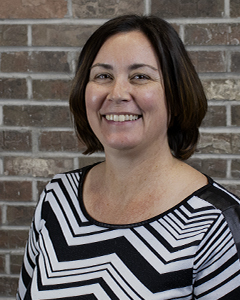 Julie Terrell, CPA, Tax Manager
Julie grew up in Southern California. Growing up, she was enamored with horses and enjoyed riding and training them. In high school, she lived in Huntington Beach and enjoyed walking on the beach, swimming in the ocean, scuba diving and sitting on the cliffs to watch the waves.
She has a Bachelors of Science degree and a Masters of Accountancy degree, both from the University of Nevada-Reno. She got a job as a full service bookkeeper after her experience from doing medical billing through college.  At the age of 30, she discovered what she wanted to be when she grew up and went back to school for her Masters.
Julie is married with 4 kids, one is an adult. They also have several different pets. When she is not at work, she is spending time with her family. She enjoys dancing, reading, horse-back riding, snowboarding, traveling and hiking.