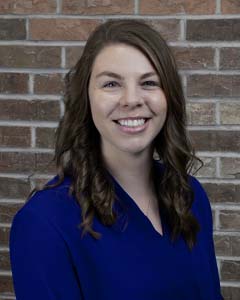 Colleen Peterson, Tax Accountant
Colleen grew up in Poteau, Oklahoma.  She enjoyed doing anything outdoors and played sports, specifically golf.  She graduated with a bachelor's from the University of Arkansas-Fort Smith in 2017.  She then graduated with a master's in accounting in the fall of 2019 from the University of Colorado at Colorado Springs.
Accounting is part of Colleen's family. Her mother is an accountant, so she decided to follow in her footsteps. Having worked as an accountant for a couple years now, she wants to remain in public accounting for the personal reward of being able to help people with their businesses and financial livelihood.
In her spare time, she loves doing anything outdoors, particularly golfing, hiking, rock climbing and snowboarding. She also dabbles in baking and cake decorating, thanks to her first job at a bakery/deli. She also loves to travel!