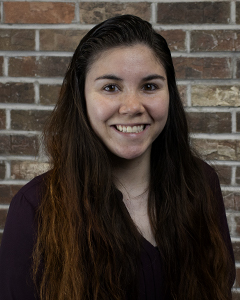 Amanda Leyba-Neary, Tax Accountant
Amanda grew up in Colorado Springs, Colorado. She enjoyed hiking around the state and being outside. Her favorite place to hike is Seven Bridges.  As a kid, she also traveled to many places like California, Florida, New York and the Cayman Islands. She graduated from the University of Colorado at Colorado Springs in May 2020.
In college, Amanda wanted to make sure she got a degree that would provide her with a well-paid, steady job. She loved her management and tax classes a lot and her first two entry level accounting jobs.  She enjoys doing taxes and helping people, which is why she says public accounting is perfect for her. She also loves 1040s!
When Amanda is not working at WCG, you can find her spending time with her boyfriend, their two cats, Socks and Remy, or being with family, who all live in Colorado Springs as well.  She likes hiking, relaxing and watching movies. She loves watching sports, including her favorite teams, Denver Nuggets, Colorado Avalanche and Denver Broncos. With her dad being a season ticket holder to all 3, she tries to go to as many games as she can.